Myuran Sukumaran's death-row paintings come to Bendigo
"We discussed that in depth and I promised to do my best get it out there ... I've posted the [exhibition] catalogue around the world to different leaders who I thought needed to see it. They don't respond. I sent one to [President] Jokowi."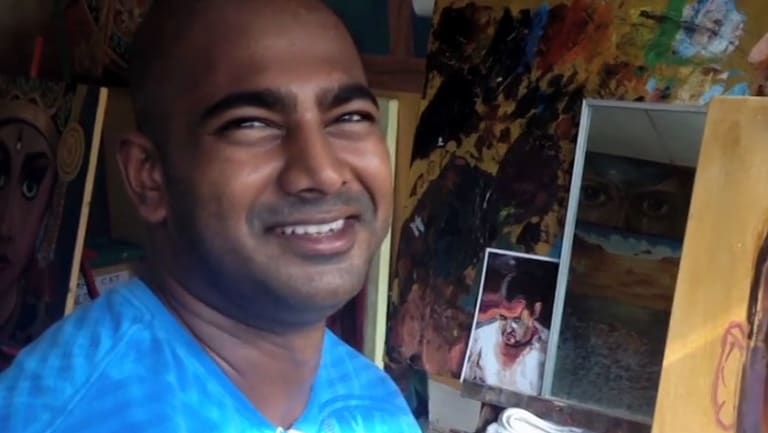 Myuran Sukumaran in 2013.
Photo: Michael Bachelard
The context in which Sukumaran's art was produced is a visceral thread throughout the exhibition, which premiered last year at Campbelltown Arts Centre as part of Sydney Festival. Many of the works contain overt references to their creator's imprisonment and impending execution.
"I can't think of a more powerful anti-death penalty image made in the history of humankind," says Quilty. But, he argues, the works hold their own.
"I think I probably underestimated how good the work was. It wasn't until I opened the crates [of paintings] in my studio that I realised the possibility of how big a show this could be.
"People were saying [Sukumaran's interest in painting] was made up to try and gain sympathy, to try save his own life. It's such a load of crap. You can see in the exhibition how much work he did and how he was obsessed with his own art practice, like I am obsessed with my own art practice."
Ben Quilty with Myuran Sukumaran's paintings.
Photo: Daniel Boud
Quilty's influence is apparent Sukumaran's paintings. But Campbelltown Arts Centre director Michael Dagostino, who co-curated the exhibition with Quilty, says Sukumaran was clearly beginning to establish his own style in the last six months of his life. The pieces produced in his final hours – as he painted all through the night – are the most powerful.
"About 20 works were painted in his last 72 hours, the majority of them self-portraits," says Dagostino. "It's kind of weird, [this selection] doesn't feel rushed, it doesn't feel unfinished. They are quite settled as paintings and there is a real sadness to them, because he's always looking back at you."
The exhibition also features works from other artists responding to Sukumaran's story, including Abdul-Rahman Abdullah, Megan Cope, Jagath Dheerasekara, Khaled Sabsabi and Matthew Sleeth.
Read More