The wisdom of waking up to children's dreams
Recently garlanded with a Green Room Lifetime Achievement Award, Giles came on board as artistic director in 2000, when the company's financial situation was looking pretty wobbly. Inheriting its first ever triennial funding from the Australia Council, she took a gamble on building a bigger vision, indulging her love of site-specific work and community engagement.
Tangle, one of Polyglot's playful creations.
Photo: Sean Young
In 2001, the company spent a year developing a large-scale puppetry performance, High Rise, involving 250 kids from Carlton's housing commission towers.
"It was huge," says Giles, "and it included residents from the Muslim community at a time when people were extremely suspicious and dark on the idea, and there was a lot of racism."
Giles then began to steer things away from puppetry and towards more interactive theatre, exemplified in the company's most enduring work to date, We Built This City (WBTC). The concept was simple enough, even if the scale was staggering: taking over a large public space anywhere in the world, a handful of Polyglot performers and local collaborators inspire kids to create their own metropolis from cardboard boxes.
"It doesn't age, because it's completely based on the idea that the participant is the lead, so it evolves with every audience, with every country, and has this incredible kind of psychology at play between the adults and children," Giles says.
"The structure and the set-up is the same, but the way people build and the way they engage with it is totally different wherever you go."
We were either going to close our doors or we could bloody pull our fingers out and raise a sh--load of money...
Sue Giles, artistic director, Polyglot
Several years into her tenure she gambled on scaling up again, this time embracing international touring. Taking WBTC to Washington DC's John F. Kennedy Centre in 2009, the move paid off handsomely, kicking Polyglot into even higher gear and allowing them to learn something new from each place they visited, from Japan to the UK.
"I think this is true for anyone looking at survival," says Giles.
"You can either get smaller, or you can take a few risks. We were either going to close our doors or we could bloody pull our fingers out and raise a s---load of money, and really think about the company in a different way.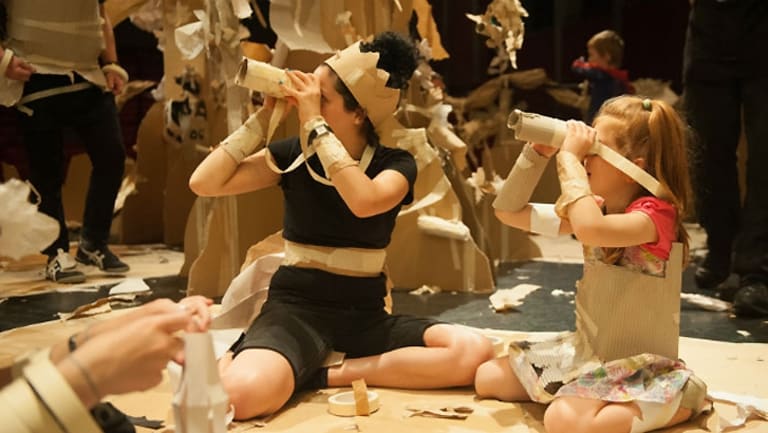 Kids get busy with paper.
Photo: Supplied
"You have to make decisions nimbly, know where the climate is going and respect your audience."
Respect for kids is at the heart of everything Polyglot does, says Giles.
"They are just so completely responsive and kind of completely under-served in a lot of ways."
While some toddlers these days can operate a smartphone, Giles isn't too worried about the digital world encroaching on Polyglot's turf.
Polyglot Theatre's giant ants take over Federation Square.
Photo: Joe Armao
"We've never been alarmist about that," she says. "There's just too much evidence that kids will do everything. They love to play physically, and they love imaginative stuff, mucking around with a box or a bit of string."
That's the major benefit of being led by children's dreams.
"Kids are in the most changeable time of their lives and they know how to take it, and they are not frightened by it," says Giles.
"And that's something that, at Polyglot, we are right in there: How can we respond best to this changing, shifting, amazing audience, and what's the next crazy idea we can come up with?"
Polyglot Theatre presents The Sound of Drawing at Roola Boola Children's Arts Festival, 670 Chapel Street, today and tomorrow. polyglot.org.au
Most Viewed in Entertainment
Loading
Morning & Afternoon Newsletter
Delivered Mon–Fri.
Read More