Pulp fiction takes aim at colonial narratives
Inspired by Tarantino's pop culture-driven pulp, the play fuses blaxploitation tropes with a comic book-style origin story. Dalara Williams (replacing an injured Megan Wilding from the Sydney run) plays archaeologist Dr Jacqueline Black who, drawing on Lui's own family history, uncovers her great-great-grandmother's skull while excavating a massacre site.
Visited by her elder's spirit, Black is transformed into superhero Blackie Blackie Brown and sets out to avenge her family by assassinating every descendant of the men responsible.
Dalara Williams as archaeologist Dr Jacqueline Black in Blackie Blackie Brown.
Photo: Phoebe Powell
"Once she meets her great-great-grandmother, she embraces her black womanhood, the matriarchy," says Lui. "It's what makes her very strong – a superhero – and then ultimately it's a baptism through fire as she has to become more than the anger."
It's a lesson some keyboard warriors could learn. Lui says she offered free tickets to several of her detractors so they could see the play for themselves before shooting from the hip. Nobody took her up on the offer.
"When you start policing art, ultimately you are policing people, and that is really concerning," she says. "It's one of our biggest tools for empathy, how we change and advance. When we aren't telling stories, those are the really dark times when we aren't allowed to learn from each other, and that's not good."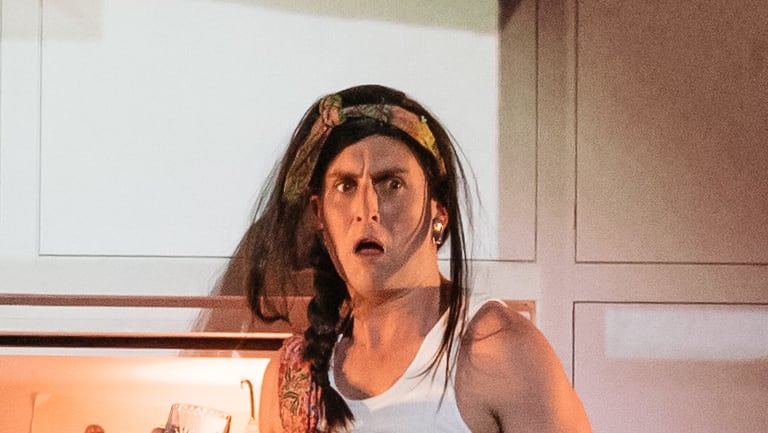 Megan Wilding and Ash Flanders in the Sydney production of Blackie Blackie Brown.
Photo: Sydney Theatre Company
One irate Facebook commenter asked Lui what she would say if the roles were reversed and there was a play about a white person killing black people.
"I was like, 'Dude, there are, there's so many'." She points to Kate Grenville's The Secret River, which won a slew of awards first as a book, then in its theatre and TV adaptations.
"We are OK with black trauma, just like we are OK with poverty porn. We've become desensitised to it. But if you switch it and portray a character who usually has power and show them as powerless, then all of a sudden it's an outrage.
Dalara Williams.
Photo: Phoebe Powell
"If you're an Aboriginal person and you start acknowledging your history, then that is seen as radical, as black armband. And it's not even our [Indigenous] history. It's all of our history. We know all about Captain Cook. It's just about making the conversation bigger, trying to make change and not repeat the same mistakes."
Ash Flanders, one half of queer theatre company Sisters Grimm, plays all of Blackie's victims, while his creative partner Declan Greene directs. The duo bring a wicked levity to what can be difficult subject matter.
"It's a show of ratbags," Lui laughs. "I love Sisters Grimm so much. They talk about race incredibly well, I think – and that's two white guys, creating the most edgy, interesting, intellectual works that are also fun, camp and queer."
The play is accompanied by visuals from animation outfit Oh Yeah Wow, based on original concept art by Emily Johnson.
"Animation is really hard to use in theatre, but given this is a really small show, it worked incredibly well," Lui says.
"Dalara and Ash are really charismatic and it never feels like a two-person show. They are constantly moving ... and they draw the audience right into it."
Emily Johnson's illustrations of Blackie Blackie Brown.
Photo: Emily Johnson
The predominantly white audiences at Sydney Theatre Company were often vocally baying for blood, she recalls. It reminded her of accompanying her dad, a boxer, to boxing matches as a young girl and getting swept up in that bloody physicality.
"It's bloodlust," she says. "This really visceral response you get carried away with. I wanted that to happen in the play – until you get to the end, and then you have these moments that ground you."
The predominantly white audiences at Sydney Theatre Company were often vocally baying for blood.
Making punters question their thirst for vengeance is all part of the play's sneaky charm, she says. "You get them on board and when they are the most open, you flip it and then all of a sudden nobody is laughing."
Blackie Blackie Brown is at Malthouse Theatre until July 29. malthousetheatre.com.au
Most Viewed in Entertainment
Loading
Morning & Afternoon Newsletter
Delivered Mon–Fri.
Read More