Pressure mounting on government over health review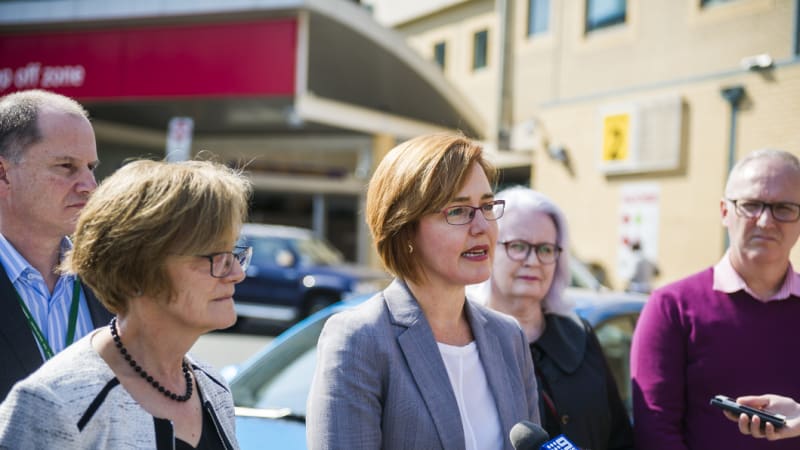 ACT Health has maintained privacy will be key to the review, but some health groups are concerned this is a smokescreen to prevent full transparency.
The association's president Dr Antonio Di Dio sent a letter to Ms Fitzharris on Wednesday calling for her to clarify several matters "which remain unclear".
The association wants the government to ensure all people involved with the review are independent of the government, not just the chair.
Loading
The letter also called for the Ms Fitzharris to ensure the review is not done in private and has the opportunity to publicly scrutinise the workplace culture of the ACT healthcare system.
The association wants the review to hold public hearings while having the power to hear sensitive evidence in private.
Dr Di Dio said it was "extremely disappointing" the AMA had not received a response or feedback to its draft terms of reference provided on Monday.
Loading
"At every turn AMA ACT has attempted to cooperate with Minister Fitzharris. We want to work with her on this," Dr Di Dio said.
"We've asked the Minister to indicate the powers and procedures to be used by the review.
"Again, I'm disappointed to say, we haven't received anything back."
Dr Di Dio said it was crucial the review was able to hold both private and public hearings.
"Community members and staff must have the option to tell their stories in private and be protected from reprisal," he said.
"Equally important is that a large, costly tax-funded organisation must be held to account in public.
"Without this public accountability, these problems will continue to fester."
Speaking after an event on Thursday with ACT Health leaders, ACT Health interim director general Michael De'Ath emphasised the conduct of the review would be "private".
"I think it's important [to note], as the minister has said, there is no benefit of a witch hunt," he said.
"It's really important that staff feel they can talk to independent reviewers with the knowledge that their information they share will be held private."
Mr De'Ath was asked if the review would see the concerns made public while also allowing people the right to anonymity.
"I believe we are looking at a terms of reference that would ensure people's information will remain private," he responded.
Ms Fitzharris said she had received support and suggestions from a number of individuals and organisation since announcing the independent review.
"This is a very important process and I believe it is important to take the time to get this right," she said.
"The AMA's correspondence and views are important, welcome and will be included in my considerations.
"I reiterate the public commitments I have already made; that the inquiry will be independent, people must be protected and the report will be made public.
"Terms of reference for the inquiry will be provided to a range of stakeholders as soon as possible."
Daniella White is a reporter for The Canberra Times with a special focus on health issues
Read More