Dugan ruled out of Panthers clash with shoulder injury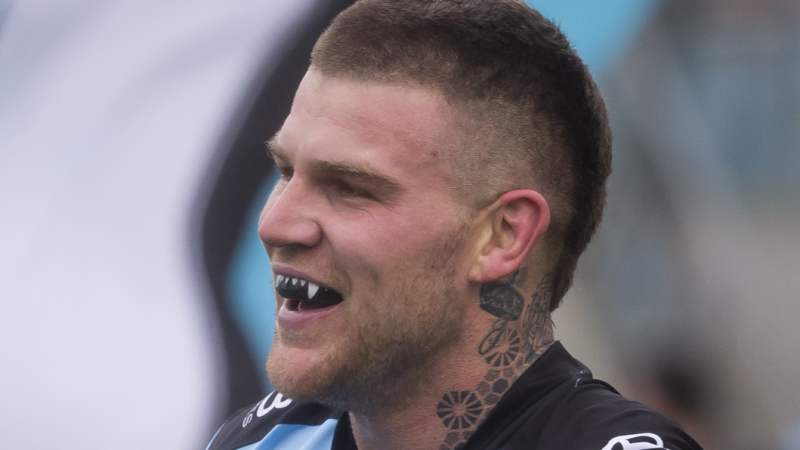 Flanagan said the club had rallied around Dugan after one of the most confronting press conferences of the season. Dugan broke down in tears at a packed media session at Shark Park on Tuesday, describing himself as an "easy target" and claiming the public's perception of him would never change despite his recent community work.
The 28-year-old former NSW and Australia representative was speaking publicly for the first time since a controversial appearance on a podcast last month which earned he and Cronulla prop Andrew Fifita written warnings from the club.
Dugan opened up about the strain and mental anguish it has caused him being touted as a rugby league bad boy, which he believes stems from his sacking at Canberra in 2013 – a blemish on his career he has been unable to remove.
Even Flanagan was surprised by Tuesday's events.
"[I] wasn't expecting it. [It's] pretty delicate. We've sort of been working with Josh but we didn't expect that," Flanagan said.
"We're dealing with him. It's a delicate situation and we need to deal with it in the right manner. Not through the media. Maybe [Tuesday] was a good thing for Josh to get it off his chest… he's been ok.
"The whole club has [rallied around him]. With all our players we've got to make sure they're ok. Sometimes we think they're big and strong but sometimes we need to look a little bit deeper."
Flanagan said he and the club were unaware of Dugan suffering any mental health problems when they signed him from St George Illawarra for this season.
With Thursday being R U OK? Day, a national day of action reminding people to ask those close to them how they are in a meaningful way, Flanagan said mental health issues were widespread in society, including rugby league.
"I think we all realise that. I'm sure all you here have heard of it, got friends, family, whatever, have been through it," he said.
"So it's definitely a concern especially with male mental health. R U Okay Day is today. It's definitely something that we all need to be aware of and it is an issue in sport, especially rugby league. I think we look at those players and they're big, strong and tough physically. It doesn't mean they're big, strong and tough mentally."
Flanagan called for the public to be understanding of Dugan's situation.
"Josh, we've all said, has made his mistakes," he said.
"He's got to stand up to those. He's a young man that is trying to do his best and is working hard behind the scenes and we'll continue to work hard with him."
Adrian Proszenko is the Chief Rugby League Reporter for the Sydney Morning Herald.
Read More