Furner excited to Leeds the way but focus on helping Souths home
But he still had the desire to be the main man, having enjoyed five seasons and 121 NRL games in charge of the Raiders - where he also played 200 games.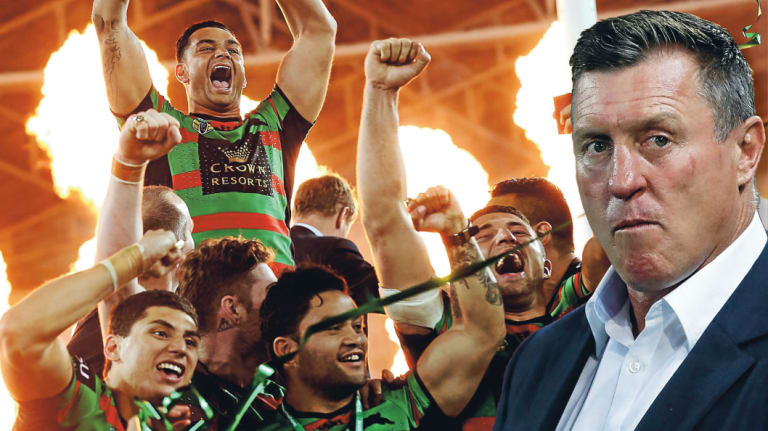 David Furner is hoping the Bunnies can repeat their 2014 success.Credit:AAP
None of that will be in his thoughts come Saturday night.
He'll purely be focused on helping Rabbitohs coach Anthony Seibold try to guide the team into an NRL grand final qualifier against the Sydney Roosters.
"My total focus is with Souths. We've got a tough game against the Dragons, who put a very good performance together against Brisbane up in Brisbane," Furner said.
Loading
"As a club and team we've had a pretty consistent year. It's about performing on the big stage.
"It's the best time of the year, as a player and as a coach, you want to be in these sort of games."
Most pundits had written the Dragons off going into the finals series, but their 48-18 demolition of the Broncos in Brisbane propelled them back into contention.
They were dealt a serious blow though, with playmaker Widdop dislocating his shoulder and unlikely to play again this season.
It means Kurt Mann will join Ben Hunt in the halves.
Even with Widdop's loss, Furner was still wary of the Dragons, whose forward pack had them sitting on top of the ladder for the first half of the season.
He felt the Rabbitohs learnt some valuable lessons in their loss to the Storm, especially the one about seizing the moments when they arrive.
"They had a siege mentality at Brisbane ... to put 48 points on Brisbane in a semi-final is a danger. We know what to expect," he said.
"They've got some quality players who have been consistent and played State of Origin.
Loading
"They've got enough weapons there that if we allow them to play their style of football they could hurt us in some areas. Our main focus is what our strengths are ... and learn from last week."
The Leeds job provided the best of both worlds - once he'd decided it would work for his family.
Furner will head over with his son in October, ahead of the start of pre-season the following month, with his wife and daughters remaining in Australia for a year as his youngest daughter Bella finishes school.
He has an affinity with the Rhinos, having finished his playing career there by helping Leeds to their first premiership in 32 years.
Plus he'd always harboured ambitions of returning to the head coaching role since the Raiders sacked him in 2013.
"I've always had the ambition to go back to being a head coach. I like the challenges. I enjoyed my time as Canberra head coach," Furner said.
"I got the opportunity to go to the Cowboys and then with Souths, an historic club. Just being around football excites, but I've got, I wouldn't call it unfinished business, it's just about challenging yourself.
"It's no different as a player. You want to succeed and play in big games. I have the same passion and drive as a coach."
David Polkinghorne covers the Canberra Raiders, local rugby league, Canberra Cavalry, racing and cycling, along with every other sport, for The Canberra Times.
Read More